In recent years, the vegan movement has grown considerably, with new restaurants popping up every day as more and more people take to the lifestyle.
"When we first signed the lease for this place there was an article in Forbes about how the vegan movement was blowing up and we didn't even think that would be a thing. We just wanted to do what we were doing!" says Francesca Avitto, co-owner of Lady and the Shallot. "When this place first opened, there wasn't another vegan place from here to Princeton. We just want to see more healthy places and more vegan places open."
Now more than ever, the vegan movement for a healthier lifestyle abstaining from using any animal products is becoming appealing to more people. People of all ages are switching to this lifestyle for health and to try and make the world a safer place.
"We have people from all different walks of life, we have old retired people trying to watch their health and then the young generation who's gonna change the world, it's amazing to see the different demographics that come in because it's all over now," Avitto says.
Before Lady and the Shallot opened, it would have been difficult to find a vegan restaurant near the Mercer County area. Now, places like the Trenton Farmers Market is overflowing with healthy eating options that include two vegan restaurants: The Lady and the Shallot and the Savory Leaf Café.
Lady and the Shallot came onto the scene in 2018. Founders Francesca Avitto and Kate Wnek looked to make plant-based comfort foods that not only tasted good, but also made you feel good. It wasn't always their goal to open up a vegan restaurant though. That came out of the blue on one fateful evening.
Francesca has been vegetarian since she was 17, and went vegan five years ago. Kate decided to become vegan at the same time. "It was a big turnaround for me, I grew up eating everything, so it was hard for me to stop. But over time we just went with the flow," she says.
The pair had a catering events company seven years ago, when they weren't vegan. They cooked upscale catering, and did intimate dinner parties where they cooked in clients' kitchens in the Princeton area.
"It was pretty cool, but it wasn't as rewarding as making people feel healthy," Francesca says.
They still do catering, and while at first their goals for the future were more along the lines of world domination, with locations everywhere making everyone in the world healthy, they have scaled those back a bit to something more realistic. Right now, their big future plan is to go all in on their sauces and to get them sold in stores.
"We really want to do a sauce line," Francesca says. "We're really into our sauces, we think they're really good, our customers love them. We started selling them and we want to do them wholesale to get them in really good supermarkets and have everyone able to eat a very healthy, limited-ingredient sauce," Francesca said.
For a long time, the lack of vegan restaurants made it very difficult for people to adopt the lifestyle. "It was very hard to be vegan back then in 1997, you had to either go into Manhattan or cook it yourself! So that was the only thing that stopped me from being fully vegan," Francesca says.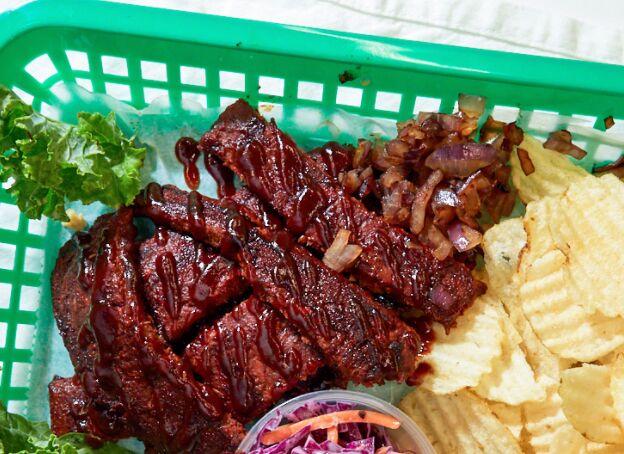 That same challenge is what led Eduardo Calderon to open up his vegan restaurant, Savory Leaf Cafe, at the Farmers Market back in 2019. For over a decade before opening, Eduardo had been a vegan and always struggled with finding healthy options.
Authentic and flavorful food has always been important to him, and it was the idea of ​​making good healthy food for good souls to enjoy.
"I've been a vegan for about 15 years now, and it was always difficult to find something to eat, so I kinda like, as a joke, said I'm going to open up my own place. But it actually made sense, so that's how it came about, out of necessity but it was actually a good opportunity," Calderon says.
When it came to his vegan lifestyle, there wasn't an overnight change where he stopped everything in favor of going vegan. It unfortunately came from some food poisoning that would end up changing his life forever.
"I got sick really bad one time from some cold cuts I had had, and from that point, I had stopped eating poultry and then a few months later just only fish and vegetables and then slowly taking one thing out," he says.
Calderon worked in computer development for 15 years and finance for 20 years before deciding to switch careers again. He wanted more control over his career, and found that in the restaurant industry.
As for where he learned how to cook, it's a passion that he has been practicing and perfecting his entire life. Spending his childhood surrounded by food in a home where he was always cooking, he took to it naturally.
"I've always grown up cooking. I'm fortunate to have been raised in a home where we always were cooking," he says. "My dad always used to say my last name, Calderon, was for someone who was always cooking!"
Calderon wanted to bring the flavors he grew up with into the vegan industry. "What I wanted to do was take a lot of the foods that I enjoy already normally and take out all the other stuff, but keep the flavor still in there," Eduardo said.
This all started with Savory Leaf's signature dish, the vegan ribs. From there on out, all of the recipes were created by Calderon and his partner, Chris. They even go as far as to make their own "cold cuts" for the sandwiches.
"My partner Chris and I came up with everything, It started off originally our main thing was ribs, and then we started looking into other kind of foods we could turn vegan, and we came up with it all ourselves," Eduardo said.
One thing that makes Savory Leaf cafe different is the experimentation in their recipes. Calderon is determined to not let anything go to waste and wants to make the most of what he has, turning it all into something for people to enjoy.
"Right now something that we're making is pork sliders using banana peels. We make banana bread here, and I was seeing a pile of peels and I started researching and seeing what other people were doing and I started using it and it became a hit!" Eduardo said.
Savory Leaf Cafe also has a food truck. "People were asking if we could cater here, and from there I got the idea that it would be easier if we had some sort of vehicle to transport stuff around and cook in," Calderon says.
Calderon wants to continue growing the business. "We're in the process now of expanding into another location in the Mercer area, keeping this one as well, but in a more commercialized environment to test it out in the open outside of the farmers market," he says.
Calderon is from Florida. He has been in the Trenton area for over 20 years. "My daughter moved here (for college), so I just kind of followed her up, and she finished school here and moved away and now I'm kind of stuck here! But I like the area a lot. It's been very nice," he says.
Both the Savory Leaf Cafe and the Lady and the Shallot are located at the Trenton Farmers Market at 960 Spruce St., Lawrence NJ 08648. More info about each restaurant can be found at either savoryleafcafe.com or facebook.com/ladyandtheshallot.
.