MIFFLINBURG, Pa. — When John and Sara Bobinis bought their 14-acre Golden Harvest Acres property in 1998, they planned to focus on vegetable production while raising their two now-adult children. As they experimented with produce, they soon realized their soil and climate were ideal for hardneck garlic production.
"Hardneck garlic tends to do better in the colder climates of North America," John said. "If you draw a line through the center of the country horizontally, we've probably sold garlic to nearly every state."
For more than two decades, Sara has worked full-time as a lead bank tels at First National Bank in Lewisburg. John focuses on the farming venture full-time, managing crop planning, rotation, planting, harvest, production and delivery.
During the farm's most intensive growing period, the couple supplied nearly 20 local restaurants with produce.
"Once something would come out, something else was planted," John said.
The Bobinises' farm continues to produce vegetables like broccoli, cabbage, sweet peppers, hot peppers, butternut squash, heirloom tomatoes, rhubarb and cabbage. The couple sells to select local restaurants, such as Good Wil's in Montandon, Rusty Rail Brewing Co. and Gable House Bakery in Mifflinburg, and Bull Run Inn and Toninos Pizza in Lewisburg. However, when their primary customer, Country Cupboard in Lewisburg, closed its doors in February 2022 after nearly 50 years in business, they were forced to reassess the farm's revenue streams.
As they approach 25 years of farming on the property, their intentions have shifted to producing the highest-quality hardneck garlic, specifically marbled purple stripe garlic for CSA growers across the country looking for seed garlic. In addition, the farm continues to create and sell value-added products, such as their line of small batch, gluten-free, gourmet food products, including jams, spreads and vinaigrettes.
Necessity Is the Mother of Invention
The couple's value-added products were created out of necessity after the 2012 growing season, John said. That year, they were blessed with 600-800 pounds of leftover garlic and needed a way to utilize the excess harvest. The couple developed their first jarred product, a roasted garlic spread. It is made with a blend of many garlic varieties grown on the farm and imported Greek extra virgin olive oil.
Without the availability of a commercial kitchen, the couple found two processors, in Sassamanville and Lancaster, and their value-added business began. For the future, John has a vision of owning his own processing and bottling facility.
Since 2012, Golden Harvest Acres has focused on creating the highest-quality, unique products that others do not offer. Their products are primarily available on their website and at higher-end festivals such as the Fall Craft Show at Ard's Farm Market and the Holiday Arts and Crafts Market at the Cellars at Brookpark Farm, both in Lewisburg. The couple choose festivals carefully, based on customer demographics and buying trends.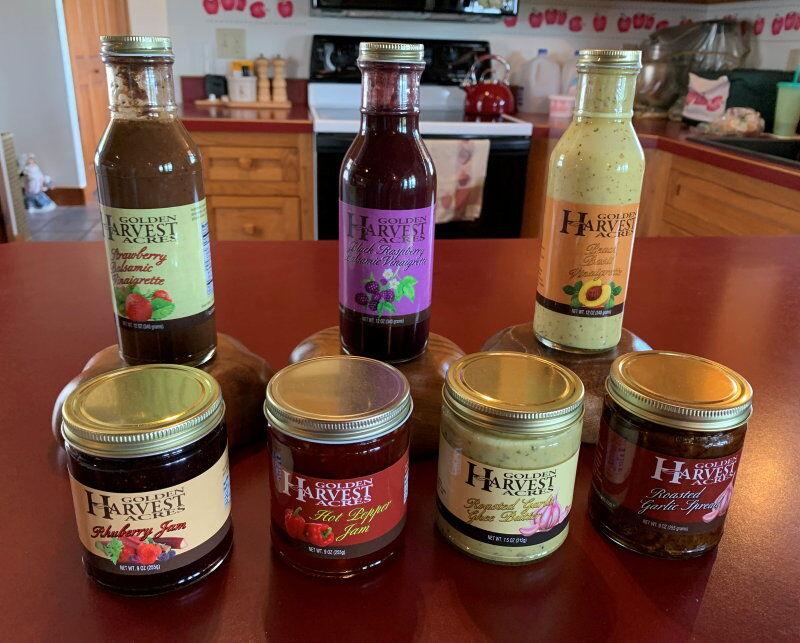 Golden Harvest Acres also offers a corporate ordering program, partnering with local businesses looking to offer employees appreciation or holiday gifts. Bulk discounts are offered when the quantity exceeds 25.
The majority of the value-added product ingredients come from the farm. The couple have made a commitment to supporting their local farmers for items that they do not grow themselves, such as berries, peaches and apples.
According to their website, the top-rated products currently include pumpkin butter, roasted garlic red wine vinaigrette, hot pepper jam and the product that started it all — roasted garlic spread. Many of the products, which average $14.95 each, can be used as marinades, in cooking or in finishing sauces.
The products offer robust flavors: peach basil white wine vinaigrette, strawberry honey balsamic vinaigrette, black raspberry balsamic vinaigrette, garlic and herb white wine vinaigrette, spiced pumpkin white wine vinaigrette, apple butter and cider vinaigrette, black cherry balsamic vinaigrette, hot pepper jam, rhuberry jam and roasted garlic ghee butter.
The pumpkin butter, a seasonal favorite with customers, will soon find new life as an ice cream product. John Bobinis worked with John Nolt at the nearby Cowan-based Old Mill Creamery to create a pumpkin butter ripple ice cream that will be offered to customers in pints and hand-dipped. The ice cream should be available in mid-October.
Specialization Key to Garlic Endeavor
John said that after many years of testing different varieties and strains, purple marbled varieties proved to be superior for their climate, growing routine, flavor requirements and ease of planting.
The farm specializes in a dozen varieties of European, Asian and Chinese varieties of marbled purple stripe garlic. They have interesting names like Asian Tempest, Bogatyr, Bzenc, Khabar, Northe No. 3, Bai Pi Suan, Estonian Red, Jovak, Monshanskij and Brown Rose.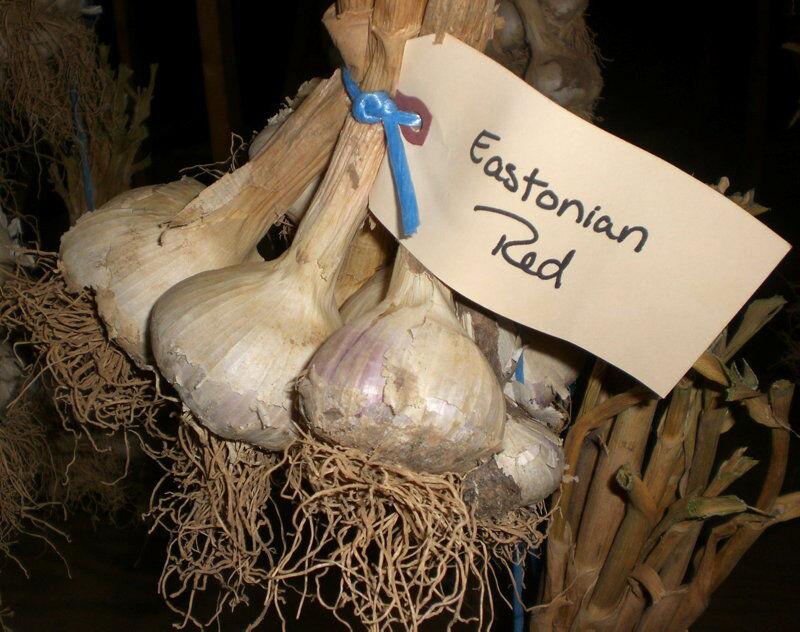 "We try to grow the harder-to-find strains (rather) than the ones that are commercially redundant, and we never sell it unless it's proven," John said. "When we get a new garlic, we will try them a year or two before we offer them to someone else."
They plan to trial some new Asiatic garlics during the next growing season.
The Bobinises hand-plant and till the land using only a small rototiller. John painstakingly weeds the garlic in the spring and summer, and trims the garlic scapes in May and June, to sell. The bulbs are then harvested around July 4 each year and can be stored until March or April in a basement with ideal storage conditions.
Golden Harvest Acres is currently accepting seed garlic reservations for fall planting. The farm also offers kitchen-grade garlic.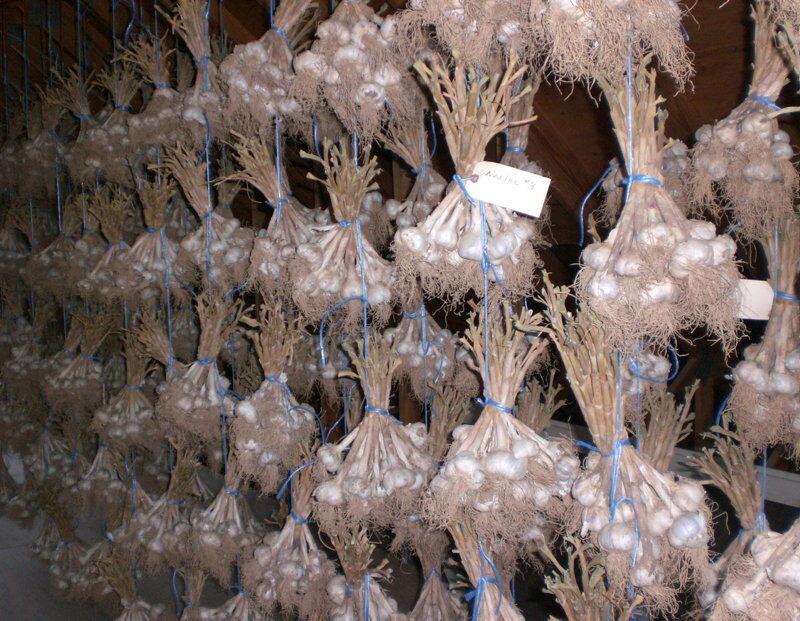 Ongoing Challenges
John said their current land has some challenges. The site doesn't offer irrigation, so this summer was brutal on vegetable production, he said.
Deer are also a constant threat, so early on in the farming venture, they installed high fences.
"Sometimes they jump them, though," Sara said.
Groundhogs and other pests are a constant problem, since their land borders a neighbor's treeline.
The 2020 and 2021 growing seasons were negatively impacted by the global pandemic because so many restaurants were closed and people were eating out less.
But all things considered, John said they have been more profitable on their 14 acres, selling direct to restaurants in a traditional year, than they were on 80 acres in Nebraska, one of three states where they farmed previously.
John is adamant about rotating crop beds every year and then meticulously caring for each bed when it's in production and over the winter months.
"For example, this garlic bed has been tilled and seeded in oats; these two had corn and now have cover crops, too. And, next year they will be something else," John said.
John and Sara said that through their years of farming and over the course of 44 years of marriage, the personal relationships they have formed with customers, CSA farmers and restaurants inspire them.
"What motivates me are the relationships that you build," John said.
For more information about Golden Harvest Acres, visit their e-commerce website at GoldenHarvestAcres.com or search for them on Facebook.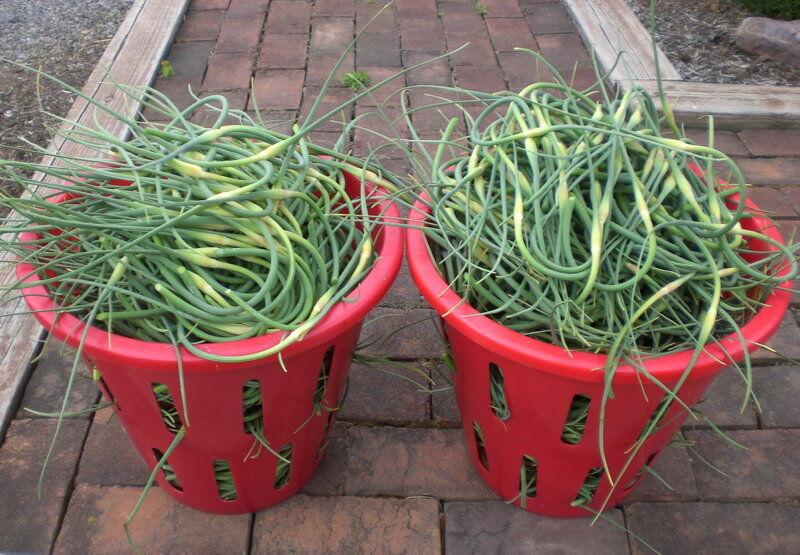 .