'Culinary detective' Eleanor Ford traces ancient maritime trade routes from Indonesia to the Middle East in third cookbook
Reviews and recommendations are unbiased and products are independently selected. Postmedia may earn an affiliate commission from purchases made through links on this page.
Article content
Our cookbook of the week is The Nutmeg Trail by Eleanor Ford. To try a recipe from the book, check out: Salted chicken with green ginger and red chili; Indonesian seafood gulai; and Balinese green bean urap.
Article content
Nutmeg was once the greatest prize. Now it's a common component of spice blends the world over. Spices, garam masala and xawaash — even the love-it-or-hate-it pumpkin spice mix — hold its sweet warmth.
Hailing from a chain of volcanic islands in the Banda Sea of ​​eastern Indonesia, it was thought to arouse, cure and intoxicate. Nutmeg enticed Europeans to enter the spice race in the 15th century, Eleanor Ford writes in The Nutmeg Trail (Apollo Publishers, 2022), eventually taking the Spanish to the Americas, the Portuguese around Africa and the English to the Arctic.
Nutmeg was so desired, the act of feeding on it even has its own word, myristicivorous.
"These trees from 10 tiny islands have got such a hold today. It's an incredible thing," says Ford, food writer and author of the award-winning Fire Islands (Apollo Publishers, 2019) and Samarkand (with Caroline Eden; Kyle Books, 2016).
Article content
"Nutmeg is a spice in itself that's got so many amazing stories and facts attached to it. I couldn't believe the gems that I kept digging up. Because it really is a spice that has captured people from all around the world's attention. It's included in so many cuisines. It features so heavily in customs and culture and cooking. And so really, it was a rich vein to tap into."
At home in London, England, Ford imported fresh nutmeg to experiment with in her kitchen as she wrote The Nutmeg Traila historical book featuring recipes along the earliest spice routes.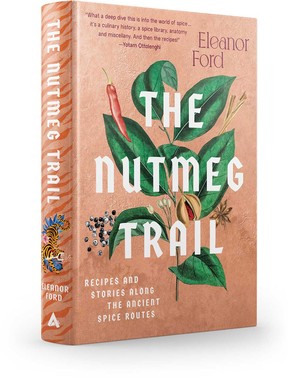 She'd only ever eaten the fruit in Indonesia — dried and crystallized — where "it became a bit of an obsession." There, Ford tried to taste as many nutmeg products as she could. To be able to finally cook with the fresh fruit was exciting.
Article content
In its raw state, nutmeg's firm, pale flesh doesn't have much fragrance, Ford explains. But once cut away from the seed (which is covered in scarlet webbing used to produce mace), simmered and turned into jam, it takes on a sharp, unmistakable scent.
Of The Nutmeg Trail, Ford examines "the original cradle of spice." Using recipes as maps, she charts the ancient maritime trade routes stretching from Indonesia to the Middle East. Heart of the spice trade, nutmeg was the hook. But every spice is a hero.
"Nutmeg obviously held my attention and became the title of the book. But really, I love how spices can be used in concert," says Ford. "Using them together brings out the best in them all."
The idea for The Nutmeg Trail began with Ford's last book on Indonesia, Fire Islands. She felt drawn to the archipelago's Spice Islands (aka the Moluccas), and the fact that it's home to nutmeg and clove, "which had such a powerful and difficult history attached to it in itself."
Article content
She describes spice as being a story of two equally important halves: one rooted in conflict, empire and colonization; the other emblematic of exchange and cooperation.
"There are incredibly sad and difficult, painful things associated with spice. And I think it's really important to acknowledge that," says Ford.
"But I also, on another hand, think that the history of the spice route when it's written by historians often focuses in on that. And that it's also important to look at that story that stretches millennia back, where there was so much peaceful exchange and trade. And look at the good that came from that."
The book's 80 recipes highlight the use of ginger, peppercorns, petals and barks, chilies, lime leaves and lemongrass, cumin and coriander, and spice blends — each with a story as unique as its flavor profile.
Article content
Normally, Ford would have traveled and met with chefs for the book, but the pandemic kept her home. This was "almost helpful," she says, because it enabled her to research differently — delving into history far more than geography.
Much of Ford's research involved reading history books. As she learned more about how the routes of maritime trade were forged over millennia, she made connections to the food eaten around the world today. By examining the ways recipes along these ancient trails have evolved and changed, she gained insight into how regional differences emerge and the cuisines of different countries blur.
Cook this: Salted chicken with green ginger and red chili from The Nutmeg Trail

Cook this: Indonesian seafood gulai from The Nutmeg Trail

Cook this: Balinese green bean urap from The Nutmeg Trail
Article content
Since maritime trails don't leave the same archaeological evidence as overland routes, Ford looked for intangible traces formed through the sharing of ideas. She describes The Nutmeg Trail as "a project of gastronomic archaeology," which evolved as she found culinary clues linking ingredients, methods and recipe names.
"I wanted to look at the idea of ​​cultural assimilation. So, I wanted to find recipes from the ports. From where people had merged. Where ideas come together. Where they were telling part of that story of exchange," says Ford.
"But I also, more practically, wanted to find recipes that really showcase the use of spice. How the spices can be blended and layered and used together. And I wanted the recipes to be as accessible as possible for people to cook in their kitchens, wherever they are in the world."
Article content
Even for those living in spice-producing lands, "every spice mix demands a journey," she adds. Not all spices are grown in one place; blending them together requires a global palette (and palate).
For the most part, spices still travel long and far to get to Canadian cupboards. While in the past, traders would weave tales around spices to keep their sources obscure, today, typically lengthy supply chains and high value make them especially vulnerable to adulteration and fraud.
As Ford illustrates in The Nutmeg Trail, all spices have a story to tell. Now ubiquitous cinnamon, for example, once inspired fantastical tales of spice hunting. Merchants would describe the "fearsome" cinnamalogus bird, she says: a mythical creature who built its nest of cinnamon sticks on cliff faces, which they'd supposedly scale to pry free.
Traders may no longer spin yarns of impossible origins, but even the most familiar spices still somehow evoke a sense of excitement. Their histories as rich and layered as their uses.
"It set us up for this world of adventure and mystery and mystique that's been tied around spices," says Ford. "Of course, we don't have that today. But it can sometimes be interesting to remind ourselves that something that's sitting there in the dusty little pot in the kitchen has actually gone on such a journey, both literally and figuratively."