For those with plant-based diets, dining out with others can be difficult. One local woman wants to make it easier for everyone to share the table.
STL Plant-Based Restaurant Week is an inaugural event running from May 1 through May 7 in Kirkwood and Webster Groves. Participating restaurants will feature plant-based items on their menus with the goal of getting everyone together and introducing plant-based foods to curious diners.
"Everything changes when one person changes what they're eating," said the event's founder, Glendale native Caryn Dugan. "You used to get together with your girlfriends and now you feel you can't go because there's nothing for you to eat. The plant-based person feels weird because they're a buzzkill now, or if they go to a solely plant-based restaurant, they worry about whether or not the other people will like the food.
"At its core, STL Plant-Based Restaurant Week is an effort to get everyone around the same table without anxiety," Dugan continued.
Dugan is the founder of the Center for Plant-Based Living, located at 131 W. Jefferson Ave. in Kirkwood. The center opened in August 2019 to host cooking classes and provide education for those looking to eat healthier. The COVID-19 pandemic has limited offerings, but the center still offers monthly classes and other resources, as well as online memberships through which members can view a full library of plant-based recipes.
Though the event is called STL Plant-Based Restaurant Week, Dugan decided to limit the 2022 event to restaurants in Kirkwood and Webster Groves, with a goal of expanding it to other St. Louis neighborhoods in future years. Each participating restaurant will highlight two or more plant-based dishes to get the conversation started on healthier eating.
Despite her intentions to start small, the inaugural event already has 15 local eateries signed up — Mike Duffy's, Crushed Red, Mission Taco Joint, Balkan Treat Box, Frisco Barroom, Maypop Coffee & Garden Shop, Gelato Di Riso, Clean & Juicy, Robust Wine Bar, Clementine's Creamery, Sunset 44, Looking Meadow Coffee, DD Mau, Britt's Bake House, and Honey Bee's Biscuits + Good Eats.
"There's no tickets or advanced reservations," said Dugan. "It's just simply so the person who is plant-based and their friends can all go enjoy themselves at the same restaurant."
Some places, like Maypop in Webster Groves, had little to change about their menus to participate. The coffee shop and garden center already offers a wide variety of vegan teas, coffees, breads and pastries — many from local providers.
"The culture of Maypop is to work locally. It just seemed very much aligned with what we are already doing and where our hearts are when it comes to being more mindful of the way we resource our products," said Maypop Marketing Director Mackenzie Leek. "It's important to think about where your food comes from. We want to create more of that conversation about what you are putting in your body."
In addition to locally-sourced coffee and tea with plant-based milks, Maypop will also feature several different hummus toasts with local brand Mylk and Hummus atop sourdough toast from Knead Bakery, as well as baked goods from Whisk Sustainable Bakeshop and Prioritized Pastries.
Chris LaRocca of Kirkwood pizza and salad joint Crushed Red said STL Plant-Based Restaurant Week is just the opportunity he was looking for pilot some new menu items. For the event, Crushed Red will highlight a Moroccan-inspired chorizo ​​pizza with plant-based cheeses, figs and flavorful pea-protein chorizo, as well as a "Dressed to Kale" salad with figs, sunflower seeds and vegan goddess dressing.
"I've been looking at plant-based foods for several years. I've been really surprised and pleased with the quality of plant-based products and how they've evolved over time. It used to be ok. It was edible, but now it's good," he said. "Plant-based eating is here to stay, so you might as well embrace it and come up with some good, tasty dishes and look at it as more than a substitution. It's no longer an afterthought — it's center of the plate."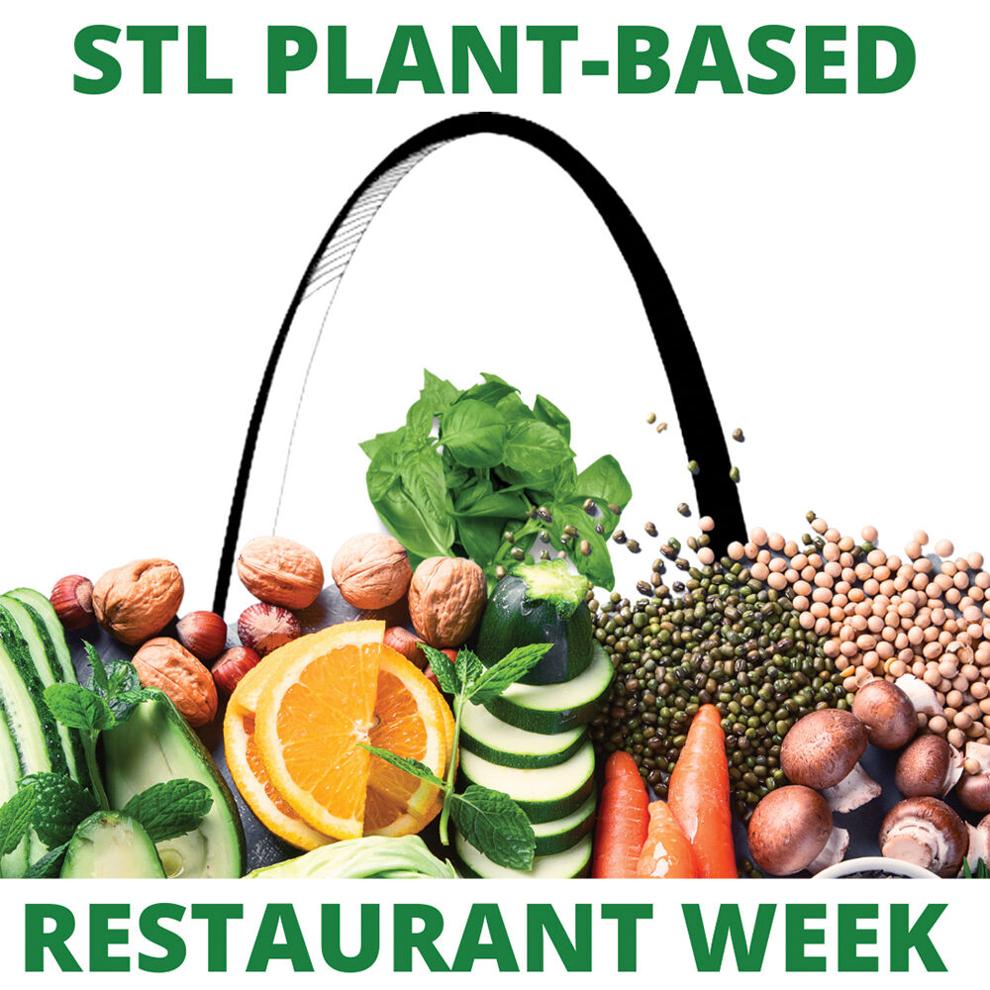 About Plant-Based Living
Dugan, 47, admits she used to snack on Velveeta and fried bologna, but a tragedy quickly followed by a medical scare convinced her to reevaluate her diet.
"In 2008, I lost my dad to cancer. Exactly 10 weeks after he passed away, I was diagnosed with cancer. That was the one-two-punch I needed to take a look at myself and begin to understand why the absence of symptoms does not mean you're healthy," she said.
Though she escaped cancer treatment unscathed, Dugan realized she needed to be more conscious of how she was treating her body. During her research into healthier lifestyles, plant-based eating kept coming up. Skeptical at first about changing her diet, Dugan eventually gave it a try and has n't looked back since. She now educates locals on the positive effects of plant-based eating through her website, STL Veg Girl, where she offers recipes, cooking programs and other services.
Plant-based eating is considered vegan, as it forbids the consumption of any animal products, including eggs and dairy. But according to Dugan, plant-based differs from veganism in that it includes a more holistic approach to eating.
"Vegan doesn't always indicate health. Oreos are vegan. Deep-fried potato chips are vegan," said Dugan. "When we used the term 'plant-based,' that is vegan, but it's on a healthier spectrum. We're talking about whole foods. You are not eating any animal products, but you're also not eating highly processed junk."
Dugan said the benefits of a plant-based diet include the reversal of type two diabetes, heart disease and hypertension, along with losing weight and increased health.
Learn more about the Center for Plant-Based Living and see all STL Plant-Based Restaurant Week participants and menu offerings at www.cpbl-stl.com or visit @plantbasedrestaurantweekstl on Instagram.
.