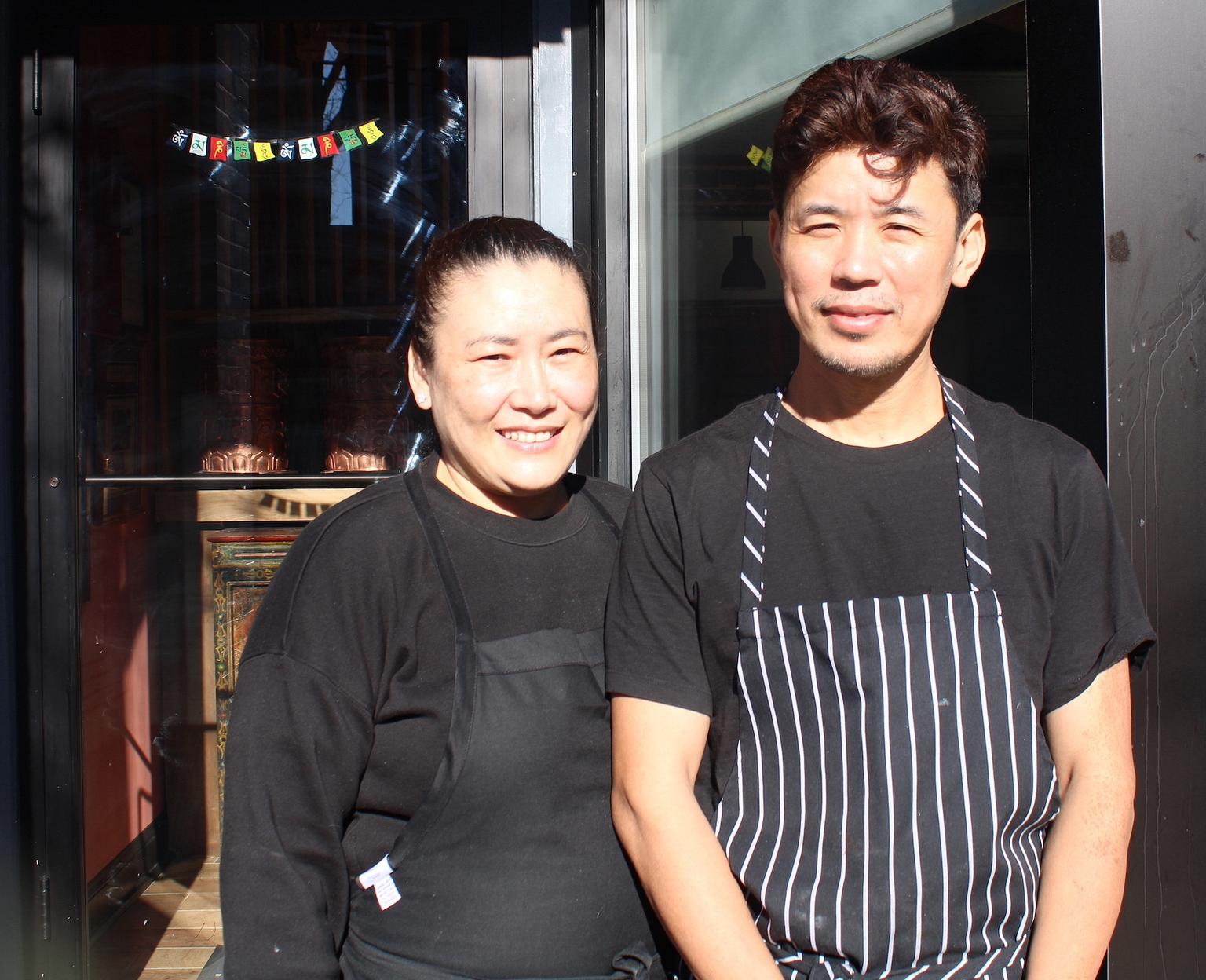 Sherab Gyaltsen and Tsering Yangzom weren't willing to spill the secret of their homemade magical mainstay chili spice-blend — but they did plump eight dumplings into a sizzling pan to reveal how to make momos you won't forget.
Gyaltsen, 43, and Yangzom, 45, offered that demonstration inside Tibetan Kitchen, the restaurant the married couple recently relocated from Middletown to 1217 Chapel St. in the Elm City.
Their move means that New Haven foodies are that much closer closer to the salty tang of Gyaltsen and Yangzom's homemade chile seasoning — a container of which this reporter has had on hand since the restaurant first started stocking the spice mix on Middletown's Main Street a decade back .
The Independent snuck into Tibetan Kitchen Tuesday morning for an interview with the chefs in the hopes of stealing the secret spice recipe — only to discover it's a standard topping for breakfast, lunch and dinner ​ ​"in every household in Tibet," according to Yangzom.
Still, the pair prepare it (perhaps in secret, more likely for efficiency's sake) in the privacy of their Woodbridge home in the early morning before driving to their Chapel Street restaurant.
Without wanting to go into too much detail on how this much-beloved seasoning is made, Gyatlsen said they use a mallet to crush and grind down a chile pepper and then fold the paste in with fried garlic.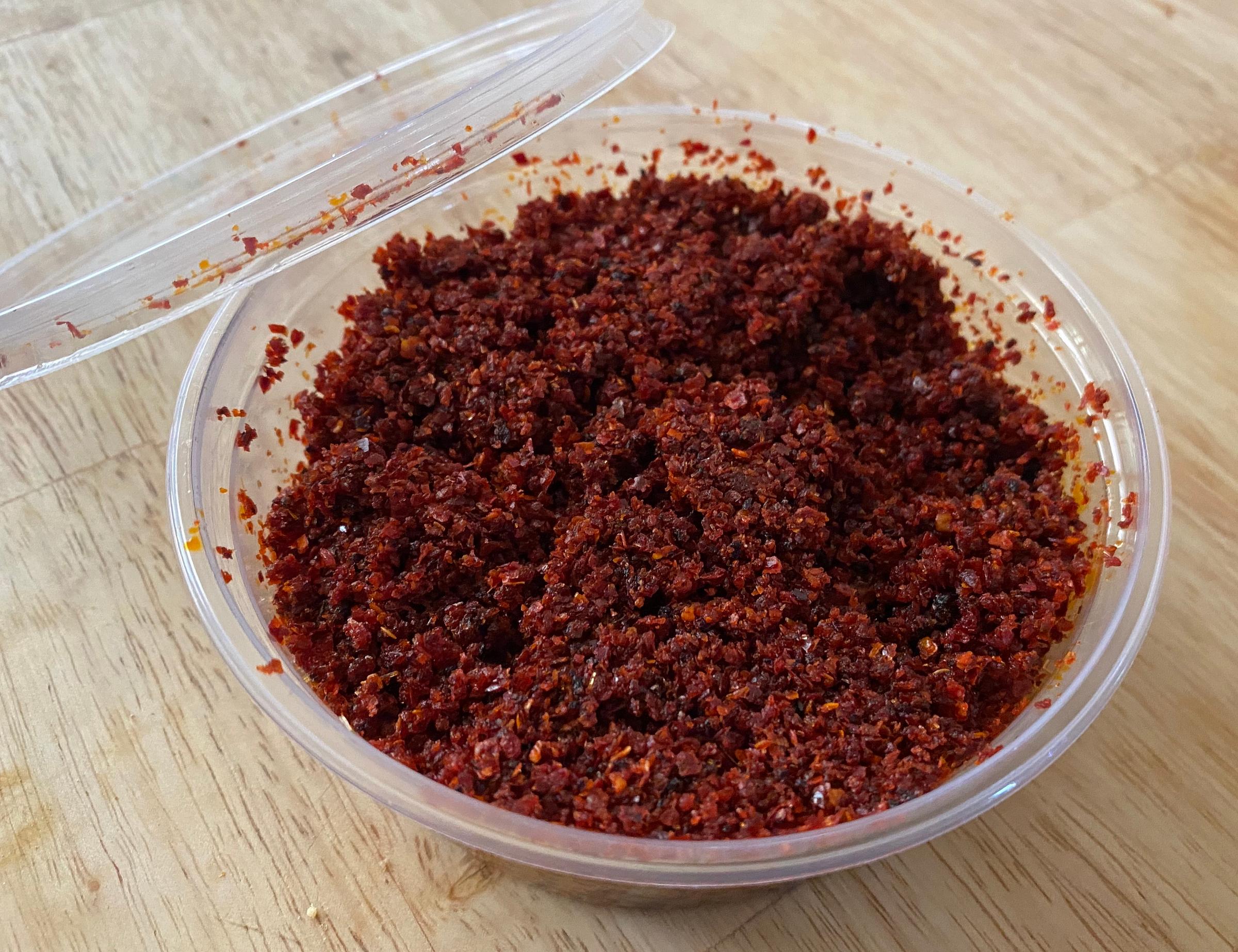 The result is a mild but zesty acidic add-on, a dash of which makes any meal more interesting.
Not spicy enough to be tossed into a hot sauce category, you can try a more peppery version featuring full seeds from the chili. That latter topping is kept in small dishes on each table spread across the cozy restaurant.
Instead of seeing how the spice mix is ​​made on Tuesday, the Independent instead got a demonstration in how to seamlessly make sha momoor pork dumplings, alongside tsel thenthuk, or hand-pulled noodle soup topped with various vegetables. Along the way, this reporter got a glimpse into the personal and professional paths that brought the dedicated homecooks to Connecticut.
A Lesson In Textures
Gyaltsen and Yangzom run a small-scale operation that, through well-practiced collaboration, produces a substantial menu of homestyle Tibetan foods, mainly including both vegetarian and meat-filled dumplings and warming soups.
Yangzom is the restaurant's lead chef. Gyaltsen typically runs the front of house and manages the business.
During this transitional period, as they try to hire new staff familiar with Tibetan cooking and figure out how to provide for a growing customer base, the two are often found behind the counter cooking in step with one another.
On Tuesday, Yangzom shaped a strip of dough out of water and flour, tearing it down into small balls which Gyaltsen then rolled with flour into flat circles.
He then slid the shaped dough to Yangzom, who put a spoon full of pork combined with minced ginger, onion, garlic and scallions into the center of the dough before pinching the perimeter of the dough together a centimeter at a time until the filling was concealed in a spiral of twisted flour.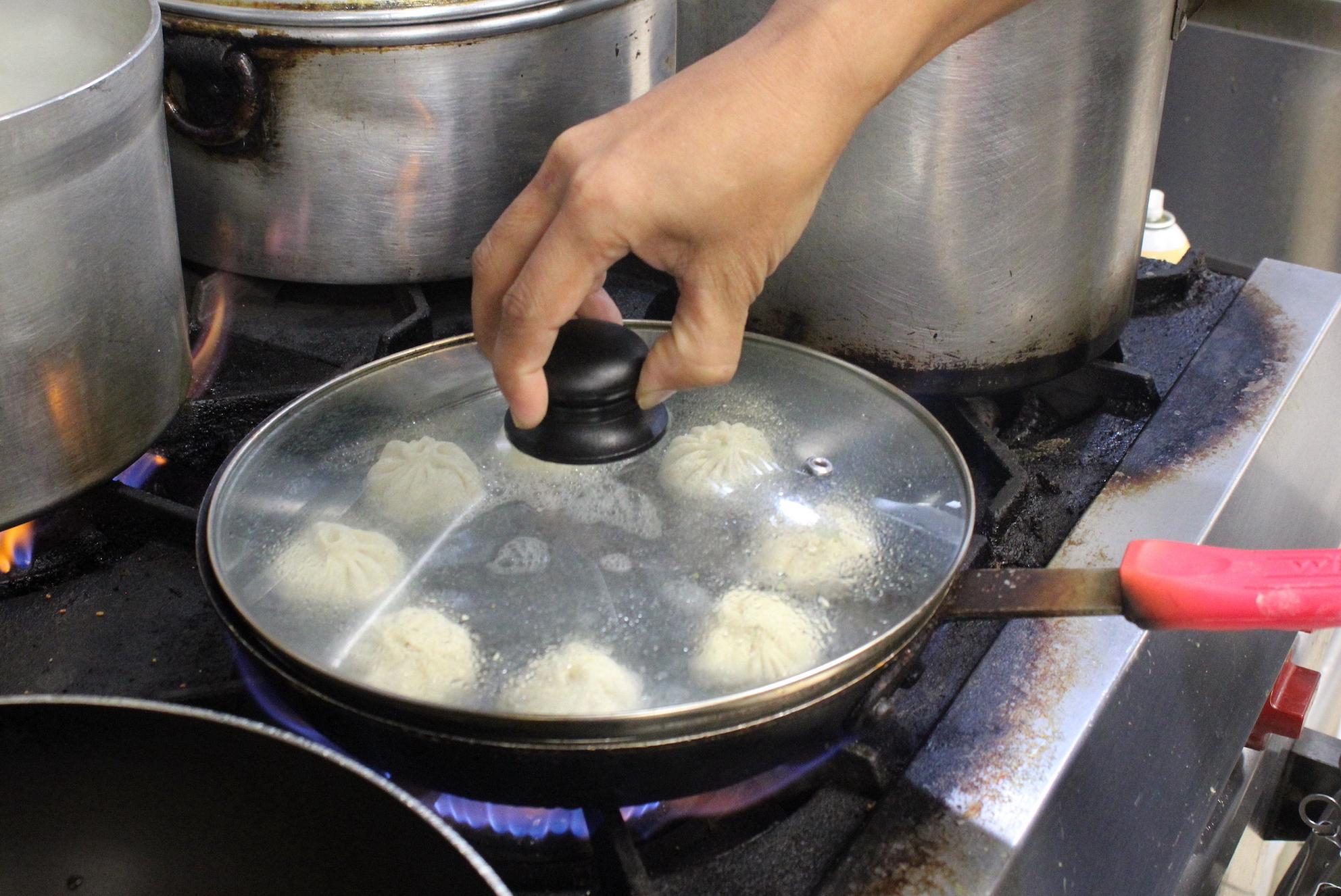 Those eight dumplings went into an oiled pan, which was filled with water and covered for five minutes. Yangzom then drained the dumplings and put them back in the pan to lightly fry until the momos' bottoms were golden brown.
At the same time, pork belly and another bright yellow broth were steaming on the stove. Yangzom took the same dough she had just made and tore it quickly into that broth. She did so 50 to 60 times, until that many small squares of dough had filled the pot.
This reporter then got to taste the momo as well as that soup, tsel thenthuk.
the momo were starchy and filling. The dough was chewy but not heavy, and soupy on the inside with a generous portion of richly seasoned pork.
the tsel thenthuk, meanwhile, was a lesson in textures: The hand-pulled noodles turned silken and nicely absorbed the flavors of the broth; baby bok choy added a pop of green and a crunchy element; matchstick radishes created a fibrous but gentle feel; and rectangles of local tofu purchased at Edge of the Woods boasted a sour, curd-filled but custardy taste.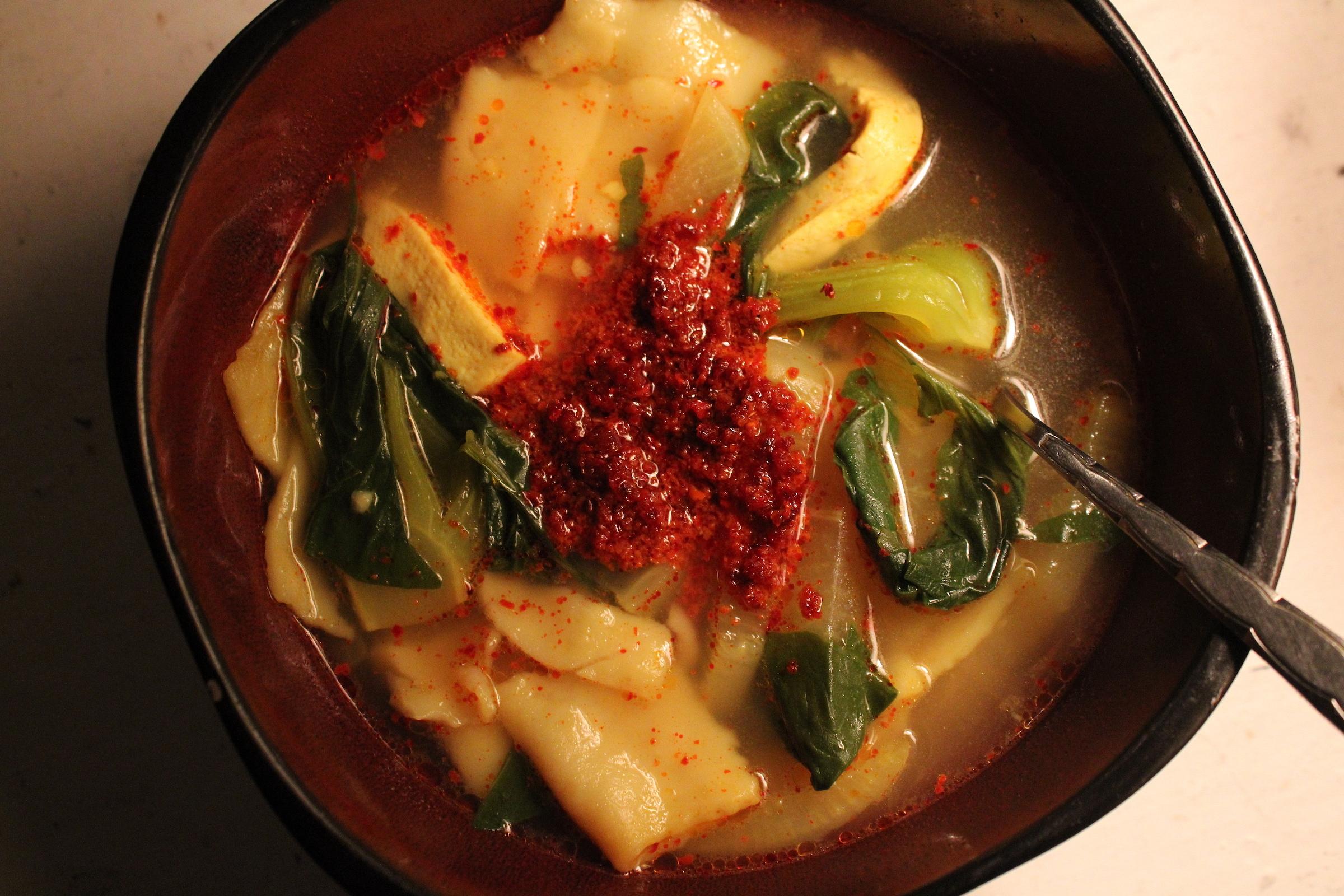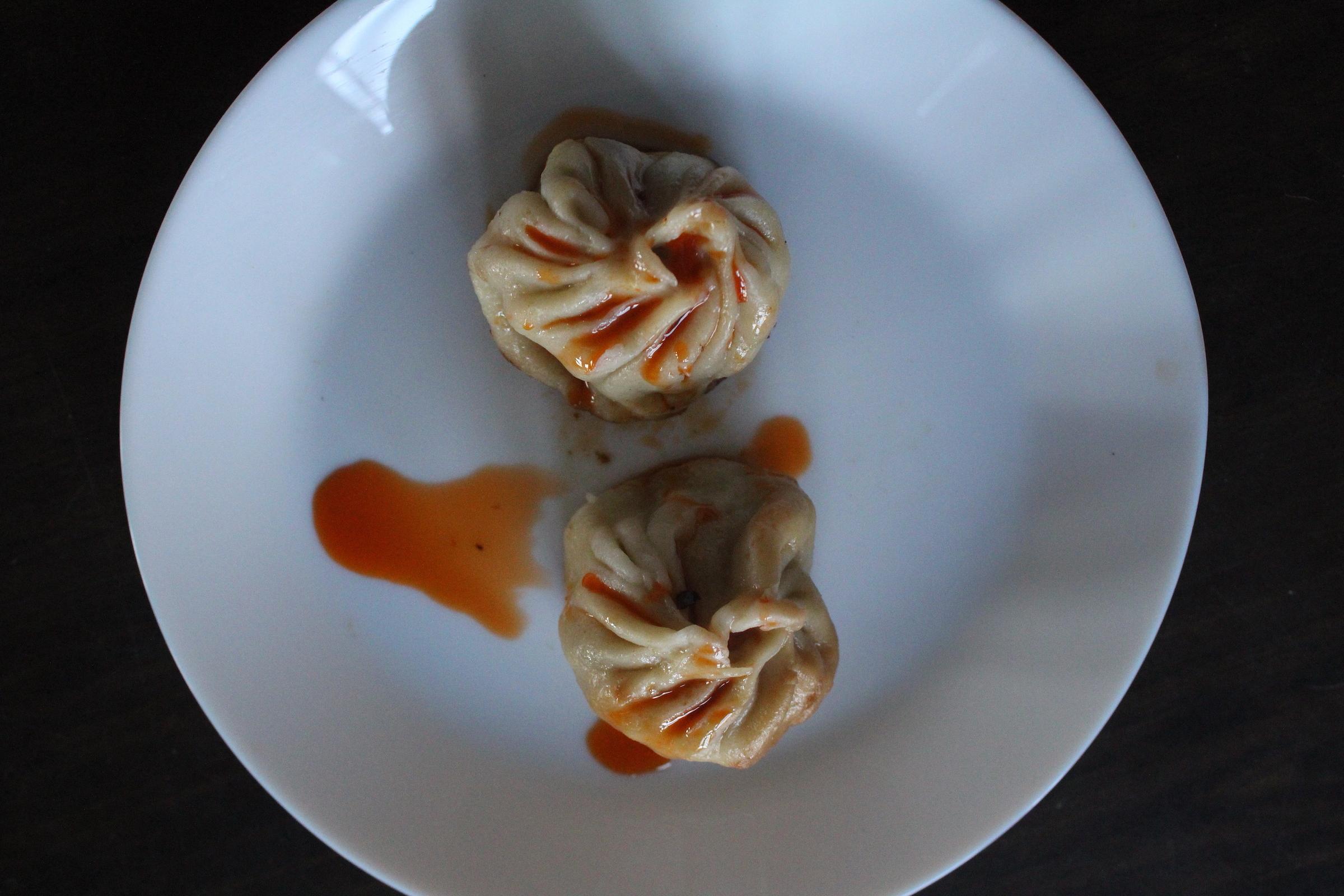 Both meals, which were served with a sesame oil-laden, spring-like coleslaw, were densely flavored without feeling saturated by the usual suspects of fat, sugar or salt. ​ ​"When you eat that, the next day you don't feel so good," said Gyaltsen. ​ ​"And a lot of those flavors, to me, don't taste so good. I don't think it's good for the body."
it's about ​ ​"process" over shortcuts, he added. No bottles of prepared sauces or flavor packets like the common monosodium glutamate are used. But a broth might be ​ ​"boiled for hours" to allow for the full steeping of spices.
Scenes From A Tibetan Kitchen… & Marriage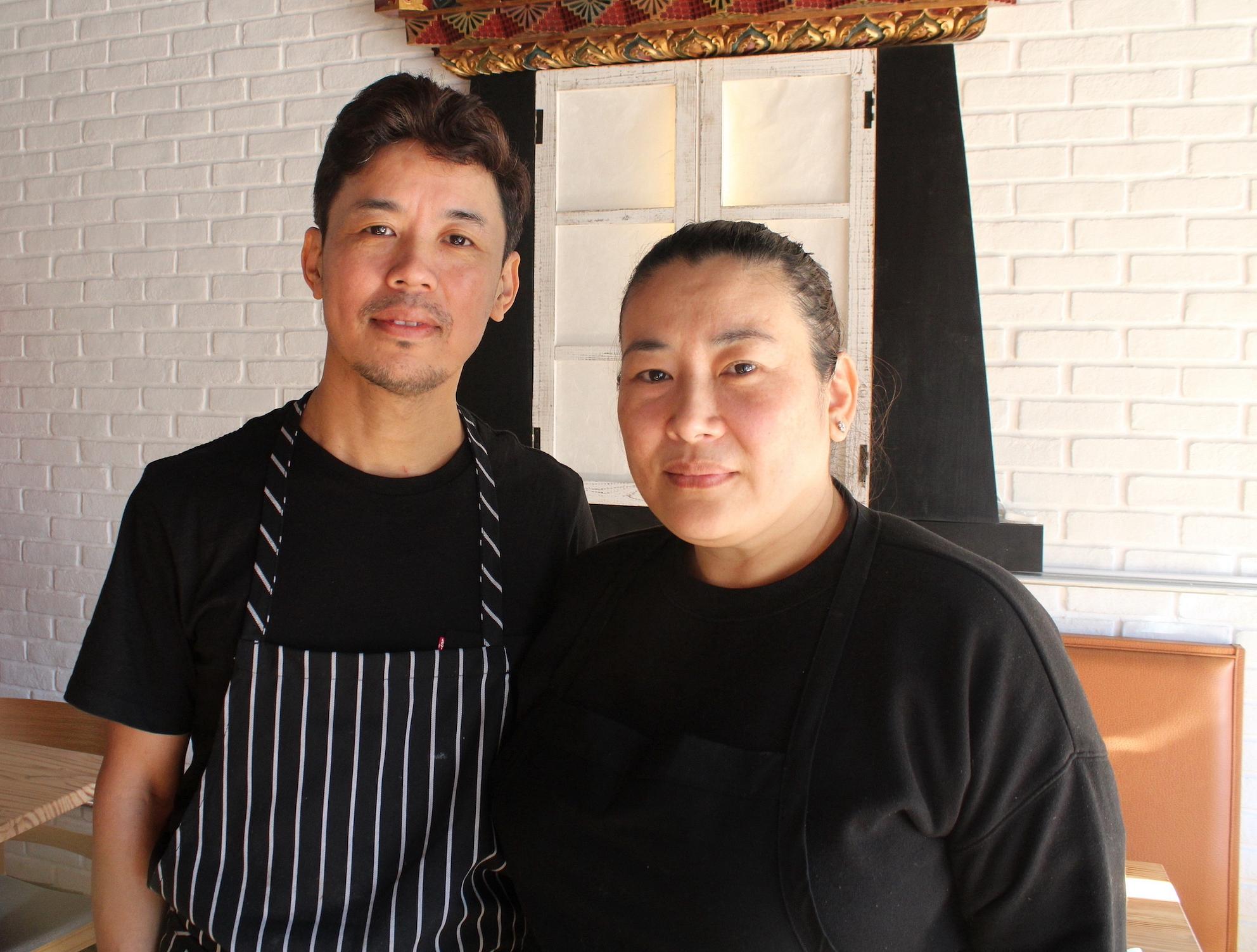 Like constructing a perfectly balanced dish, building a successful restaurant is about time, intent, and practice.
For both Gyaltsen and Yangzom, it's been a lifetime of gently percolating inspiration that brought them to full-time jobs as restaurateurs with a loyal client base — and to a day-to-day as peaceful partners in both business and life.
Both grew up in India with Tibetan parents who fled there during the 1959 Tibetan uprising, following the 14th Dalai Lama as he left for Dharamsala amid escalating political tensions between Tibet and China.
More specifically, Yangzom's family relocated to a Tibetan settlement in New Delhi while Gyaltsen's family found their way to Dharamsala.
Yangzom's parents opened a Tibetan restaurant to provide for those in the Tibetan diaspora situated around them; Gyaltsen's parents opened the first vegetarian restaurant in a city that became a hub for international tourists.
Though Yangzom never went to school for cooking or gained professional experience in restaurants until she opened her own, she would frequently help out her parents in the kitchen as a kid. And Gyaltsen, who would wait on customers in his own parents' eatery, got a glimpse into taking bold business moves and finding success in return.
Gyaltsen recalled how his mother decided in the ​ ​'90s to convert the restaurant into an entirely vegetarian enterprise — in turn establishing a totally novel place to eat in that area that his father feared, worrying that they would lose their only mode of income.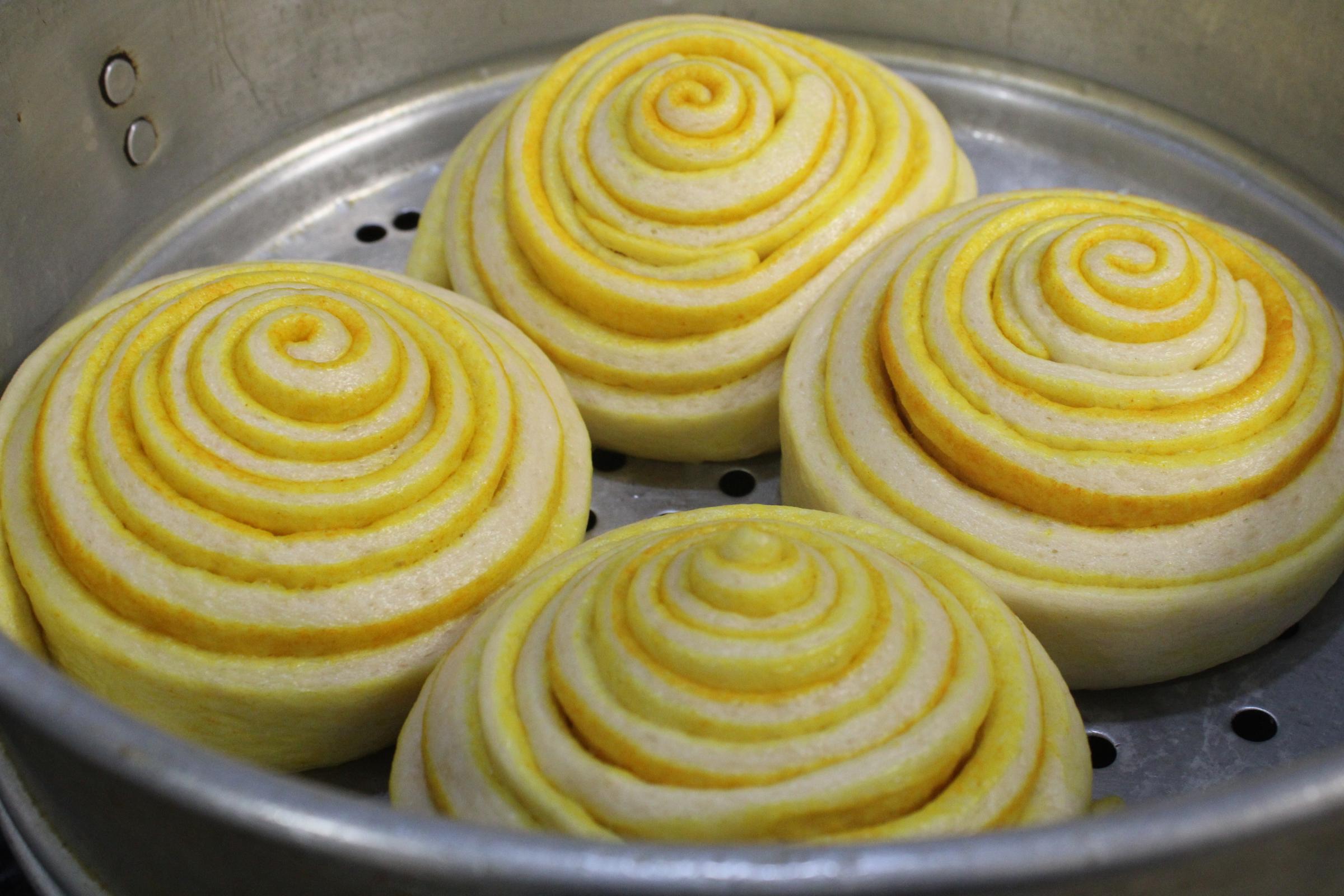 Instead, more customers started lining up at the door. Travelers from across Europe, who would often stay in the city for two to three months at a time, became regulars at the spot — and Gyaltsen's mother would invite them into the kitchen to prepare their own cuisines, like spaghetti or spätzle, so they could all share their cultures with one another.
Similarly, although Gyaltsen was the only Tibetan student at school, he said he rarely felt othered or isolated — but rather enjoyed sharing his noodle-based lunches with Indian peers, who in turn would let him try out their rice and curries.
Years later, Gyaltsen and Yangzom, who met while studying at the University of New Delhi, chose to leave India together to come to the states. At the time, Gyaltsen was traveling on a national soccer team traveling the world as political activists, protesting the fact that Tibetans did not have citizenship rights in India. They came to America to both leave that troublesome reality and to join a community of friends who had already immigrated to everywhere from Wisconsin to New York City.
"We needed to do something here to survive," Gyaltsen said. At first, the pair were considering going back to school to become nurses — until they saw a Vietnamese restaurant model that allowed the couple who owned the eatery to run their own schedules and take a month off each summer to spend with their children.
"We took this chance," Gyaltsen recalled. ​ ​"It was really a bold decision, and we had a hard time for the first couple of years."
With little training, the two opened the first Tibetan restaurant in Connecticut, settling in a small storefront along Main Street in Middletown. Like their parents, they in turn established a means of sharing their culture with their new communities — and did so with little precedent to follow as Tibetan cooks.
A lot of people who came into the restaurant didn't know where Tibet was. ​ ​"Is it in Japan?" Gyaltsen remembered visitors asking him. ​ ​"It's closer to India or China," he would tell them, welcoming any questions they had with patience rather than frustration. ​ ​"There are a lot of things I don't know!" he reasoned — communities educate one another, he said, asserting that he relied on assistance from others around Middletown to help him adjust to a new space.
For the first couple of years, they only operated between 5 and 7 pm as they struggled to keep up with the pace of customers coming in for more and more of their coveted momo. Yangzom had never cooked such large portions for so many people, and it took months to teach herself how to do so. But by the time a positive review from the new York times came out about Tibetan Kitchen a few years after its founding, Yangzom was well prepared to serve an additional stream of customers compelled to drop by and try their fare.
As spouses, the two understood each other's strong suits and were able to easily delegate their roles in the business. Yangzom cooks and develops menu items while Gyaltsen tests each dish and deals with the hospitality side of running a restaurant.
each meal ​ ​"goes through my mouth," Gyaltsen said, before into the customers' (not baby bird style). ​ ​"A friend will never give real criticism," he stated — but he and his wife have an honest relationship that allows for constructive taste testing and impeccably edited recipes.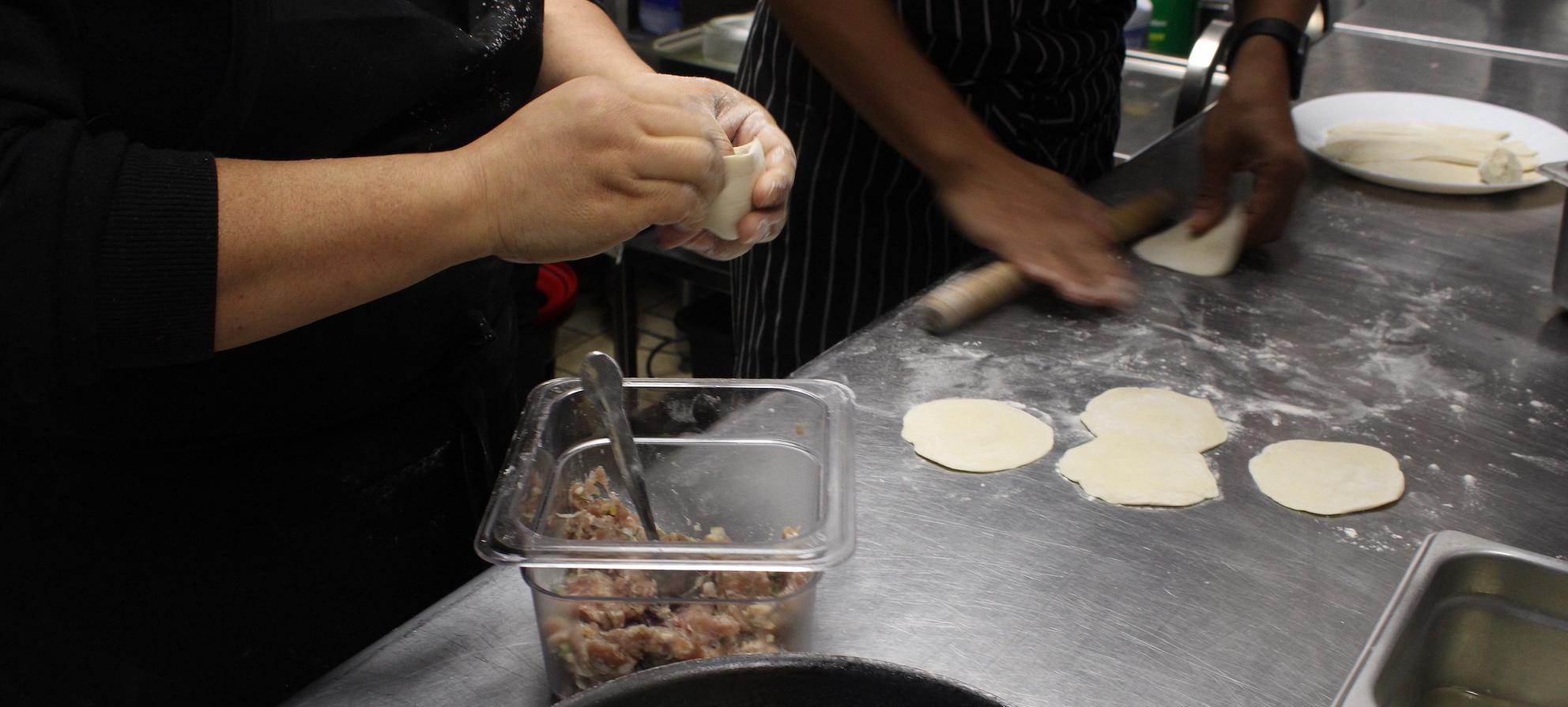 The pair relocated their restaurant to New Haven this summer to move closer to Orange and New York City, where many of their friends reside.
At their Chapel Street location, they have only one assistant in the kitchen as well as a dishwasher and two waitresses. They also have a couple of part-time chefs who come into the restaurant to help out on occasion.
The pair spend every moment together. With their 18 year-old-daughter boarding at Miss Porter's school, the duo wake up together around 7 am and travel to Chapel Street where they make eggs on sprouted toast for breakfast before prepping for lunch. They leave the restaurant around 10 pm and hold business meetings while commuting by car.
"We see each other 24/7," Yangzom said. They've been married for two decades, but like to say that they've spent twice as much time together as typical couples who part ways during the day to go to their respective work places.
They only part ways in July, when they travel to India with their daughter to visit family. Yangzom stays with her family, Gyaltsen to his. After a month away from the hot kitchen, they return to work.
They're able to move so quickly because of their well rehearsed compatibility in and outside the kitchen. As seen with the making of momos described above, the two move around their stoves and counter space as though taking part in a dance duet.
Now that they're in a new location, they're moving a bit more slowly, they conceded.
When reaching for a napkin or to-go container, Yangzom says she has to think twice: ​ ​"To the left or to the right?"
"Even the smallest things really matter," she said. ​ ​"But we learn by making mistakes."
As they move around the Chapel Street restaurant with care and intent, Yangzom said, ​ ​"We're getting the rhythm back."
.