Host nation:
Qatar
Dates:
20 November-18 December
Coverage:
Live on BBC TV, BBC iPlayer, BBC Radio 5 Live, BBC Radio Wales, BBC Radio Cymru, BBC Sounds and the BBC Sport website and app.
Day-by-day TV listings
–
Full coverage details
England, Wales and other European nations will not wear the OneLove armband at the World Cup in Qatar because of the threat of players getting yellow cards.
The captains, including England's Harry Kane and Gareth Bale of Wales, had planned to wear the armband during matches to promote diversity and inclusion.
A joint from seven football associations said they could not put their players "in a position where they could face sporting sanction".
"We are very frustrated by the Fifa decision, which we believe is unprecedented," the statement read.
The governing bodies – England, Wales, Belgium, Denmark, Germany, the Netherlands and Switzerland – said they had written to Fifa in September informing them about the OneLove armband but not received a response.
"Fifa has been very clear that it will impose sporting sanctions if our captains wear the armbands on the field of play," the statement added.
"We were prepared to pay fines that would normally apply to breaches of kit regulations and had a strong commitment to wearing the armband.
"However, we cannot put our players in the situation where they might be booked, or even forced to leave the field of play."
In response, FIFA has brought forward its own "No Discrimination" campaign, which had been due to start from the quarter-finals. Captains will now be permitted to wear a No Discrimination armband for the duration of the tournament.
Kane wore the Fifa armband as England began their World Cup campaign with a 6-2 win over Iran on Monday, with the Three Lions also taking the knee before kick-off.
"We're disappointed," Kane said about not being able to wear the OneLove armband. "We wanted to wear it, that decision was taken out of my hands. I turned up to the stadium with the armband that I wore and I was told I had to wear that.
"Look, it's out of our control as players. I'm sure the FA and Fifa will continue those discussions but most importantly we focused on the game and got a great result.
"You've seen over the last five years we've made a stand as a squad and we'll continue to do that as much as we can. We took the knee as well but sometimes these decisions aren't up to us and that's the bottom line."
Attacking midfielder Jack Grealish scored for England in the win against Iran and told ITV it was "a bit stupid" that Kane could not wear the OneLove armband.
He added: "We are with them [LGBTQ+ community]we wish they were here with us."
Meanwhile, Iran's players declined to sing the national anthem before the match in an apparent expression of support for anti-government protests in their home country.
Human rights activists have said more than 400 anti-government protesters have been killed in Iran and 16,800 others arrested in a crackdown by security forces in recent months.
Wales play the United States at 19:00 GMT.
What is the OneLove armband?
It was announced in September that the captains of 10 European nations – England, Wales, Belgium, Denmark, France, Germany, Norway, Sweden, Switzerland and the Netherlands – would wear a OneLove armband at Nations League games and the 2022 World Cup in Qatar.
Norway and Sweden are not at the World Cup, while France captain Hugo Lloris said he would not wear the armband because he wanted to "show respect" to Qatar.
The Netherlands began the OneLove campaign before Euro 2020 to promote diversity and inclusion, and as a message against discrimination.
Same-sex relationships and the promotion of same-sex relationships are criminalised in Qatar.
on Saturday, Fi president Gianni Infantino accused the West of "hypocrisy" in its reporting about Qatar's human rights record.
In a statement, the Dutch FA said it was abandoning the plan to wear the armband "with a heavy heart" following Fifa's decision to impose sanctions.
"This goes against the spirit of our sport that connects millions of people," it added. "Together with the other countries involved, we will take a critical look at our relationship with Fifa in the coming period."
Netherlands manager Louis van Gaal, whose side beat Senegal 2-0 on Monday, said: "One thing is clear – we are not going to wear the armband if we're getting a yellow card.
"I think we need to question whether this a correct action on the part of Fifa and you can answer that question."
The Football Association of Wales said: "We're frustrated. We're disappointed. But we remain with the belief that football is for everyone and stand with our LGBTQ+ members of the Welsh football family."
FSA feels 'betrayed' by Fifa
Fifa warning that it would impose sanctions on any captain who wore aLove armband has been criticised, with the Football Supporters' Association saying it felt "betrayed" by football's world governing body.
"Today we feel contempt for an organization that has shown its true values ​​by giving the yellow card to players and the red card to tolerance," it added in a statement.
"Never again should a World Cup be handed out solely on the basis of money and infrastructure.
"No country which falls short on LGBT+ rights, women's rights, workers' rights, or any other universal human right, should be given the honor of hosting a World Cup."
3LionsPride, an England fan group for LGBTQ+ supporters, said the decision was "more than disappointing", adding that captains' "basic rights to freedom of speech and expression" were being crushed by Fifa.
The Rainbow Wall, which represents Welsh LGBTQ+ fans, said it had "no faith" in Fifa following the decision.
In a joint statement with 3LionsPride, it said: "This abuse of power by those who have chosen to remain silent for so long is a gross betrayal of trust".
The decision was also condemned by anti-discrimination campaign group Kick It Out for continuing "to highlight Fifa's failure to address concerns of both human rights groups and the LGBTQ+ community in the build-up to this tournament".
"Players and fans should not have had to bear the burden of Fifa's mistakes and we will continue to support Gareth Southgate, and his team, as they look to explore other ways to support inclusion in football," the statement added.
Former England captain Alan Shearer told BBC Radio 5 Live the timing of the decision was "not fair" on players, adding he would have defied Fifa and worn the armband anyway.
"I would obviously have spoken to the manager and my preference would have been to say: 'I'll wear the armband and I'll take the hit,' he said.
"That would pose a bigger question and a bigger problem for Fifa than them not wearing it – and that's what I would do, if I could."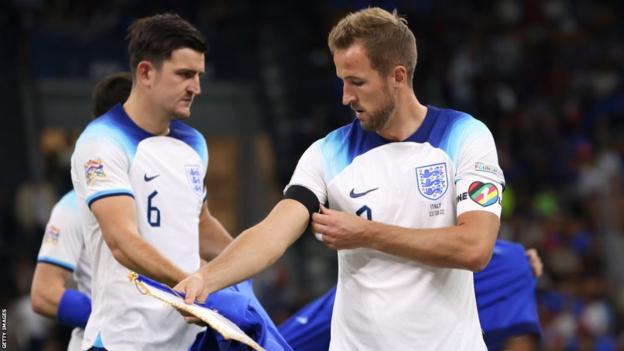 analysis
Jack Murley, presenter of the BBC's LGBT Sport Podcast, speaking on BBC Radio 5 Live
If you're Harry Kane and you can risk a booking and miss the World Cup final by wearing this armband, you can see why he wouldn't necessarily do it. the flip side to that is what's the point of a protest if it doesn't actually make a splash; if there are no stakes to it?
It's not as if players do not have power and influence in this situation, but it's a difficult one to ask them to exert on the biggest stage of their lives.
The question really should be why have they been put in this situation on the day of the game? Fifa has known for months and months they wanted to wear this armband. Why are we only having this conversation now?
We've now got to a point where Fifa has spent years saying this World Cup is for everyone. It's now essentially said that if you wear an armband symbolizing that it's OK to be gay, you'll get booked.
Fifa has a lot of explaining to do about how those two things marry up. There will be a lot of LGBTQ+ people who are not only entirely unsurprised by this decision, but also absolutely furious.
It feels like a gut punch that a symbol for who you are being OK can get you booked at football's greatest tournament. That is an extraordinary place to arrive at in 2022.


Get the latest results and goal notifications for any team at the Fifa World Cup by downloading the BBC Sport app: apple – Android – Amazon




Get your daily dose of Fifa World Cup reaction, debate & analysis with World Cup Daily on BBC Sounds